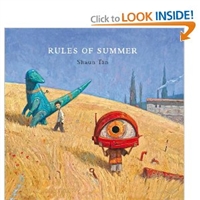 内容简介

Combining humour and surreal fantasy, Shaun Tan pictures a summer in the lives of two boys. Each spread tells of an event and the lesson learned. By turns, these events become darker and more sinister as the boys push their games further and further.

Other titles by Astrid Lindgren and Academy Award winner, Shaun Tan include: The Red Tree, The Lost Thing, Tales from Outer Suburbia and the acclaimed wordless novel The Arrival.

Read more about Shaun Tan at http://www.shauntan.net/

作者简介

Shaun Tan was born in 1974 and grew up in the northern suburbs of Perth, Western Australia. In school he became known as the `good drawer` which partly compensated for always being the shortest kid in every class. He graduated from the University of WA in 1995 with joint honours in Fine Arts and English Literature, and currently works full time as a freelance artist and author in Melbourne.

Shaun began drawing and painting images for science fiction and horror stories in small-press magazines as a teenager, and has since become best known for illustrated books that deal with social, political and historical subjects through surreal, dream-like imagery. Shaun has also worked as a theatre designer, and worked as a concept artist for the films Horton Hears a Who and Pixar's WALL-E. He is currently directing a short film with Passion Pictures Australia.