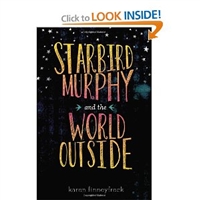 Starbird Murphy and the World Outside
内容简介

In her sixteen years of life, Starbird has never touched a dollar bill. She's never been in a car. She's never used a cell phone.
That's because Starbird has always lived on the Free Family Farm, a commune in the woods of Washington State.
But all that is about to change. When Starbird gets her "Calling" to be a waitress at the Free Family's restaurant in Seattle, she decides to leave behind the only home she's ever known.
Nothing could have prepared Starbird for the World Outside, or for what it would teach her about the Family—and herself.
From the author of The Sweet Revenge of Celia Door comes this hilarious and poignant story about finding your true calling in life.
作者简介

Karen Finneyfrock is a poet, novelist and teaching artist in Seattle, WA. Her second book of poems, Ceremony for the Choking Ghost, was released on Write Bloody press in 2010. Her young adult novel, The Sweet Revenge of Celia Door, is due from Viking Children's Books, a division of Penguin Group USA in February, 2013. In 2010, Karen traveled to Nepal as a Cultural Envoy through the US Department of State to perform and teach poetry and in 2011, she did a reading tour in Germany sponsored by the US Embassy.